For Mississippi to reach its potential, our children must reach theirs.
Have you Heard about Mississippi LIFT (Learning Investment for Tomorrow)? The Mississippi LIFT project is funded by the Preschool Development Grant Birth to Five (PDG B-5) Renewal. The PDG B-5 Grant is based on the strategic plan developed by the Mississippi Department of Human Services (MDHS) Division of Early Childhood Care and Development and other partners, including the Mississippi Department of Education (MDE), the Mississippi Early Childhood Inclusion Center (MECIC), The Children's Foundation of Mississippi, and Mississippi State University Social Science Research Center (SSRC).
Mississippi LIFT invests in families, communities, and child care providers with sound educational resources for our littlest Mississippians. By offering training, employment incentives, and support for early child care teachers, Mississippi LIFT sustains families with free at-home learning and child care services by providing safe, evidence-based educational and lifestyle resources from birth to age five.
Early investment can transform the lives of children living in underserved populations, poverty, rural areas, and with disabilities. Mississippi's future depends on sustained funding of these early childhood education and development programs. Our fate is in the hands of the next generation.
We're excited to partner with the Annie E. Casey Foundation for its 2023 KIDS COUNT Data Book release! The Data Book tracks child well-being across the country and how our state is working for kids. In addition to the latest data and an analysis of well-being trends, this year's report explores child care and opportunities to build a better system for both families and providers.
In partnership with the Children's Foundation of Mississippi, 
Entergy
has launched a My529 college savings account program that will donate $60,000 to help Mississippi families establish 1,200 child savings accounts. Eligible families can sign up for a Kids to College my529 account with the help of CFM and a free $50 contribution from Entergy.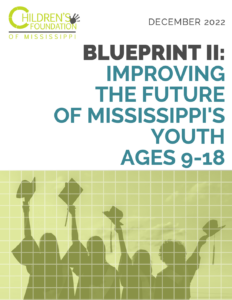 Our first signature project is the development of the Blueprint for Improving the Future of Mississippi's Children, focused on the needs of children from 0-18 years of age. Because different approaches are needed for different age groups, the Blueprint has been rolled out in two phases, birth to age 8, and ages 9 to 18. The second Blueprint is now available for digital download!
The Children's Foundation of Mississippi has been home to Mississippi KIDS COUNT since January 2020.  KIDS COUNT grantees, supported by the Annie E. Casey Foundation (AECF), continue to be a reliable data source for more than 30 years. While AECF produces the National KIDS COUNT Data Book, CFM is responsible for the annual release of the Mississippi KIDS COUNT Factbook.
We need your support in order to turn the curve for children in Mississippi.