For Mississippi to reach its potential, our children must reach theirs.
In partnership with the Children's Foundation of Mississippi, 
Entergy
 has launched a My529 college savings account program that will donate $60,000 to help low-and moderate-income Mississippi families establish 1,200 child savings accounts. Eligible families can sign up for a Kids to College my529 account with the help of CFM and a $50 match from Entergy.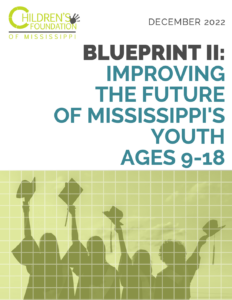 Our first signature project is the development of the Blueprint for Improving the Future of Mississippi's Children, focused on the needs of children from 0-18 years of age. Because different approaches are needed for different age groups, the Blueprint will be rolled out in two phases, birth to age 8 and ages 9 to 18. The second Blueprint is now available for digital download!
The Children's Foundation of Mississippi has been home to Mississippi KIDS COUNT since January 2020.  KIDS COUNT grantees, supported by the Annie E. Casey Foundation, continue to be a reliable source of data for more than 30 years.
No one knows what a community needs more than the members of the community itself, which is why CFM has launched Early Childhood Councils at the local level.
Learn more about trends in child well-being in the US from the AECF 2022 Kids Count Data Book. Mississippi's data book is set to release early January, so stay tuned for an inside look at county-by-county data.
We need your support in order to turn the curve for children in Mississippi.