For Mississippi to reach its potential, our children must reach theirs.
Mississippi was recently awarded a Preschool Development Grant Birth to Five (PDG B-5) Renewal totaling over $30 million, which will be disbursed over the next three years to improve access to high-quality early child care and education programs.
The grant will allow for the creation of a new Quality Support System with input from parents and providers focused on strengthening family and provider input to ensure Mississippi's early care and education system is more responsive to all children and families' needs.
It will also fund a new grant opportunity to address Child Care deserts and low-income communities' opportunity for local public-private strategies to increase compensation and create new pathways for recruitment into the early childhood care workforce.
Grant Information Source: MDHS
We're excited to partner with the Annie E. Casey Foundation for its 2023 KIDS COUNT Data Book release! The Data Book tracks child well-being across the country and how our state is working for kids. In addition to the latest data and an analysis of well-being trends, this year's report explores child care and opportunities to build a better system for both families and providers.
In partnership with the Children's Foundation of Mississippi, 
Entergy
has launched a My529 college savings account program that will donate $60,000 to help Mississippi families establish 1,200 child savings accounts. Eligible families can sign up for a Kids to College my529 account with the help of CFM and a free $50 contribution from Entergy.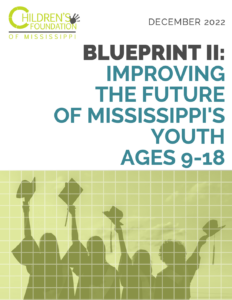 Our first signature project is the development of the Blueprint for Improving the Future of Mississippi's Children, focused on the needs of children from 0-18 years of age. Because different approaches are needed for different age groups, the Blueprint has been rolled out in two phases, birth to age 8, and ages 9 to 18. The second Blueprint is now available for digital download!
The Children's Foundation of Mississippi has been home to Mississippi KIDS COUNT since January 2020.  KIDS COUNT grantees, supported by the Annie E. Casey Foundation (AECF), continue to be a reliable data source for more than 30 years. While AECF produces the National KIDS COUNT Data Book, CFM is responsible for the annual release of the Mississippi KIDS COUNT Factbook.
We need your support in order to turn the curve for children in Mississippi.